Superior safety
The New Generation XF, XG and XG+ offer outstanding safety for (co-)drivers as well as other road users. Large windows, ultra-low window belt lines and for instance the practical kerb view window result in a new standard for direct vision. And with a robust cab structure, class-leading ergonomics and smart features to make driving even safer, the New Generation DAF trucks are the industry leaders when it comes to road safety.
Maximum direct and indirect vision
When it comes to safety, DAF's philosophy has always been 'Hands on the Wheel, Eyes on the Road.' Therefore, the New Generation DAF offers class-leading ergonomics. All driving related functions are operated from the steering wheel and the steering column stalks, as are the digital display menu, the TraXon automated gearbox and audio and phone functionalities. Secondary driving functions are operated from physical switches which are logically positioned on the dashboard and are easy to operate. This approach guarantees the driver to focus on the road, which is the starting point for optimal safety.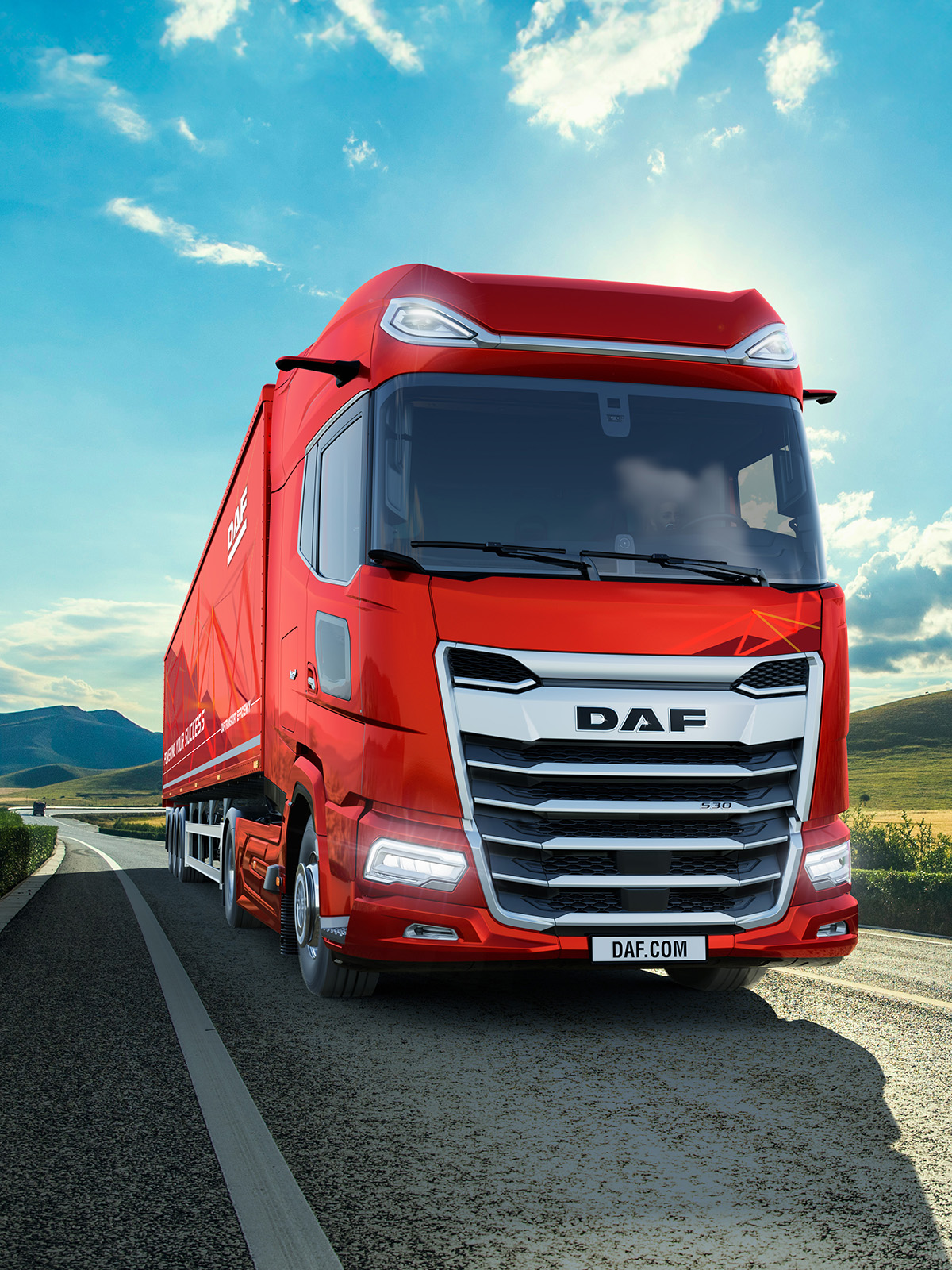 Robust cab that leaves nothing to chance
The New Generation DAF trucks have a completely new and extremely strong cab structure that protects against impact on all sides.
At the front, energy-absorbing crash boxes are integrated.
Crash zones in the back of the cab protect against moving loads.
DAF's Controlled Steering Column Deformation System (CoDeS) ensures that the steering wheel moves away from the driver, for instance in the case of a trailer-back collision.
The dashboard includes impact absorbing zones to protect the driver's knees.
Programmed Cab Displacement System
The New Generation DAF XF, XG and XG+ feature DAF's unique and patented Programmed Cab Displacement System (ProCaDis), allowing a 400 millimeters cab displacement on the chassis during a front collision, to absorb the energy and prevent the cab from detaching. As a result, the cab structure is maintained, maximising the survival space for vehicle occupants.
Smart features for active safety
The New Generation DAF includes a whole range of functions to maximise active safety. These include Brake Assist, Lane Departure Warning System, Emergency Brake Lights and City Turn Assist. We've also added new features like the DAF Electronic Park Brake for smart park brake control, a Low Speed Trailer Brake for safe trailer coupling and uncoupling, and Park Brake Assist for additional park braking power which helps out in a multitude of situations.